Episode 8: Payroll Protection Program - Loan Terms
Jenn Loges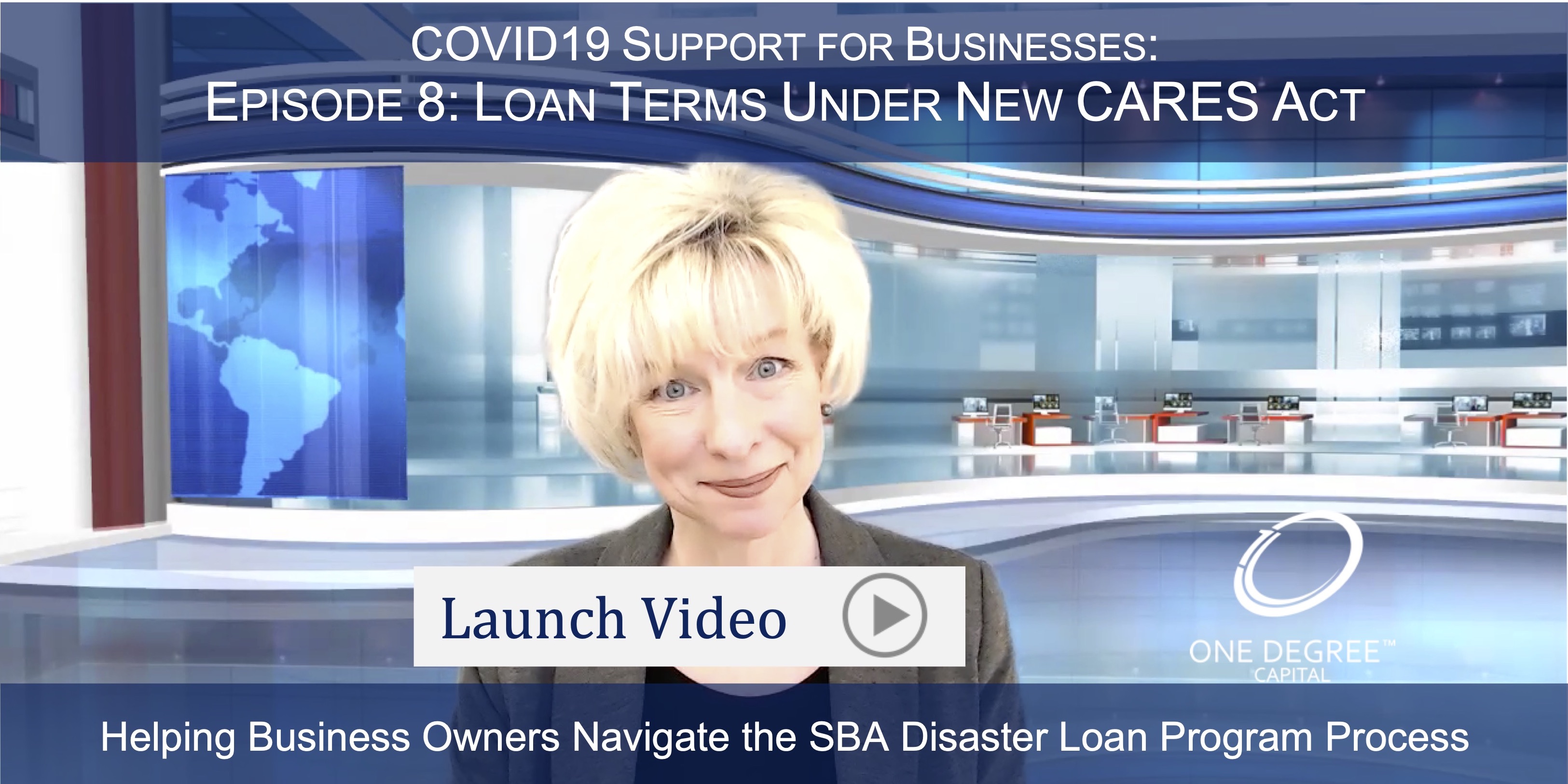 Now that the new CARES Act has been signed into law, what terms can you expect to see when you apply for a loan? What are the collateral requirements? And what's all this about not having to pay back the loan??? Find out what you need to know in this 7-minute video:

As COVID-19 continues to wreak havoc on businesses across the globe, our focus today is on the financial support that is available to Virginia businesses. For many, the support that is becoming available could completely transform what was the potential dismally bleak outcomes. We've created this series to cover specific topics that will help you with critical business decisions in the coming days and today, March 28, we bring you the latest on the CARES Act passed on Friday, March 27. The focal point of this act is the Payroll Protection Program and obvious questions surround loan amounts and terms.


Let's be clear that there are now TWO loan programs out there:
SBA Disaster Loan Program - covered in previous posts, these loans focus on revenue versus expenses.
SBA 7A Payroll Protection Program - the CARES Act provides a new level of assistance under this program to cover payroll expenses specifically. These are the details we bring you today and a development since the original Disaster Loans were released.

Loan Terms and Conditions
Once your amount is determined and you close on the loan, terms will be for a 2 years with a 1% interest rate. They'll defer the first loan payment for 6 months; you have a little breathing room before starting payments. However, there are some key differences between the CARES Act 7A Loan Program and the SBA's traditional 7A Loan Program. The Cares Act 7A Loan Program is different in that:

There are no personal guarantees.
There is no collateral requirement.
You do not have to prove that you cannot obtain funds elsewhere, unlike on the Disaster Loan. On Disaster Loans, if you have an existing line of credit, they'll expect you to draw on that before taking from disaster funds.
There are no SBA closing fees or SBA fees of any kind. Normally, there are some SBA guarantee fees and annual fees that are associated with a 7A loan. They are waiving these types of fees under the CARES Act
These loans go through a bank. Your lender MAY charge fees and these can vary from bank to bank. Make sure you're comfortable with the bank helping you through this and get full disclosure on what those fees may be. Full disclosure: Please understand that we are updating this information as much as we can, but parameters are often changing. Stay up-to-date with the Payroll Protection Program HERE.
There is a Loan Forgiveness Clause. This is the most talked-about element of the program. Here's how it works...
If you keep your number of employees at the same level you had prior to receiving the funds, for the eight weeks following your loan closing, a portion of the loan will be forgiven. For example, let's say you have 50 employees at the closing of your loan. For the eight weeks following your closing, if you keep all 50 fully employed at the same rate they had before you got the loan — meaning you don't lay anyone off, don't reduce hours, and don't move someone from full time to part-time — a portion of your loan will be forgiven.

The forgiven amount includes your total payroll costs, as described above. What's critical is this...you have to apply for the forgiveness. It's not granted automatically. Also, that application will go through your lender, not the SBA. With that, your loan amount will essentially be applied as a principal payment to your loan, so it will completely reduce the amount of principal owed. This does not affect interest, which you'll still owe on the funds. However, at 4%, that's no such a bad deal. This is a critical piece. While the process by which this will be implemented has not been fully disclosed, these are the parameters.



Payroll Protection Loan Amounts
When it comes to calculating loan amounts, similar for both programs above, the SBA will be determining loan amounts for you. For the Payroll Protection loans, specifically, the formula will be as follows:
Avg Monthly Payroll ⨉ 2.5 = LOAN AMOUNT


The SBA will look at your average monthly payroll amounts for the last 12 months, multiply that number by 2.5 (to cover 2.5 months of your average payroll cost) and arrive at your loan amount. With that, there are some key points to keep in mind:
If you're a seasonal business, they'll adjust to ensure you're not negatively impacted by an artificially low average.
If your average payroll exceeds $100,000, amounts beyond this will be excluded from the calculation. These loans are for small businesses, thus the cap.
In these calculations, payroll isn't just wages. It includes:
employee salaries
wage commissions
cash tips
vacation pay
paid leave
group health premiums
retirement benefits, and
state and local taxes on the payroll.
It does NOT include:
federal employment taxes
employees physically located outside the U.S.
Anyone already getting benefits because of the Families First Coronavirus Response Act (this would be double dipping), or
compensation exceeding $100,000 (per the note above)
The use of funds is altogether different. Loans can be used for payroll, rent, utilities, and interest on existing debt that you had prior to February of this year.


Keep in the mind that this situation is developing. There is a difference between signing a law and implementing a law. Now that the law is signed, the Treasury Department will work in the coming days on implementation and spell out exactly how all of this will work.

Please check back often for updates. As we learn more, we'll keep you updated. In the meantime, follow One Degree Capital on LinkedIn or check our blog daily.


Need help now?