Episode 5: Determining Your SBA Loan Amount - How Much Will You Get?
Jenn Loges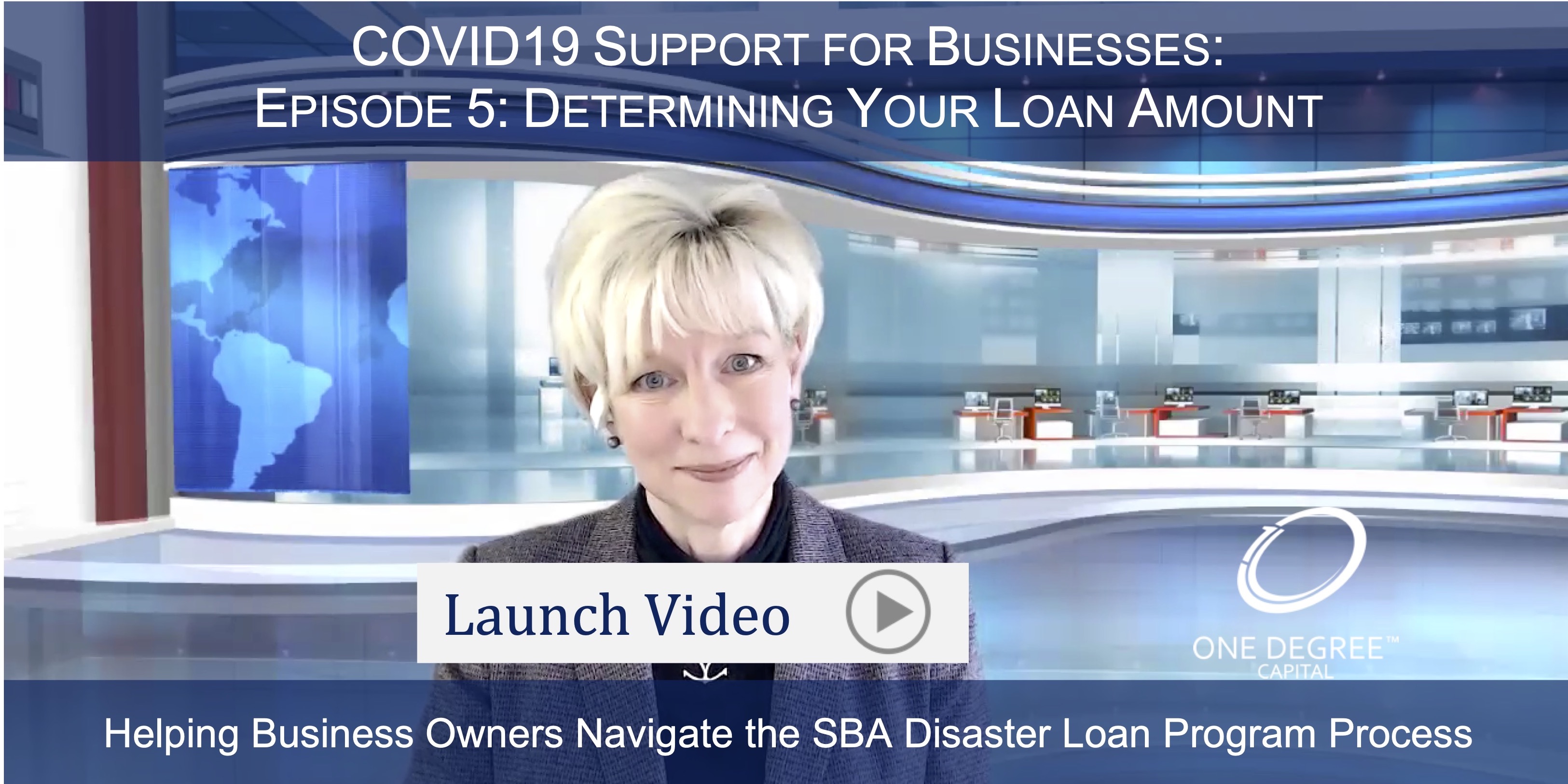 One of the most common questions we are receiving today regarding the SBA Disaster Loan Program is how to know how much to ask for on the loan application. We break down for you how the SBA will determine your loan amount:

We are continuing to monitor the developments of COVID-19, and particularly its impact on Virginia businesses. The rapid-fire change we're experiencing has left countless business owners with the burden of tough decisions to make. With that, our hope is that the short videos and blogs here on our site will provide answers swiftly, solidify your footing, and allow you to make progress.
In this discussion, we reviewed the latest on SBA disaster loan terms. Here, we delve into the specifics of how much to request when filling out your SBA loan application.
The good news? You don't have to come up with a number.
The SBA is going to determine this number for you based on your actual monthly expenses for your business. Right now, the feedback that we're getting from the SBA is that they will cover up to 6 months of operating expenses. This number has caught a lot of people off guard, as we sit in the uncertainty of how long our businesses will be closed. Is this how long we expect dark windows and skeleton crews?
There are conflicting reports and absolutely no way for us to speculate how long this will continue. What we do know is that the SBA is using 6 months as a yardstick, as far as their formula goes for a working capital loan. When you visit sba.gov/disaster to complete your application, you'll notice that there is no place to enter the amount you're requesting. Instead, once a loan officer is assigned to your particular case, the amount will be calculated as a part of the subsequent process.

What will the SBA be looking for?
To determine your loan amount, the SBA will assess your economic injury — the impact COVID-19 has had on your business revenue and your inability to cover monthly expenses. So as you're stepping through the application and providing documents, make absolutely sure your monthly expenses are accurate and you're accounting for everything PRIOR to this disaster. If you are already having to lay people off, do not adjust for this. Regular monthly expenses include things like payroll, rent, utilities, and other fixed expenses that you have on a monthly basis. This does NOT cover things like equipment purchases, business acquisitions, real estate acquisitions, or debt refinancing; that is not the intention of these loans.
Expect to provide documentation - they WILL request reports that support the numbers you provide. Make sure that your financial statements are up to date. Take time to carefully complete their monthly expense form since that's primarily what will be used for the calculation.


Not sure whether or not to apply?
If you're wondering whether or not you need to apply, the SBA says ABSOLUTELY. Due to the overwhelming influx of applications, processing times are mounting. Versus waiting and enduring longer and longer processing, their recommendation is to apply NOW, regardless of whether you think you need the loan or not. There's never been a situation like this with so many businesses applying for disaster relief. The system is already overwhelmed and will only buckle further. As of the time we wrote this blog, the submission email address was already full and kicking back documents.
So expect delays and frustration, but don't put this off — as of March 23, the SBA is estimating about 2-3 weeks to process the application and have a loan officer assigned to you, then another 40-45 days of actual processing time and payment distribution. Keep this in mind and expect this timeframe to grow and grow.
There is some good news - check out this discussion on blanket application of loan terms.

We hope this information is helpful and we will continue to share updates as we strive to understand the changing landscape. Our goal is to bring you this information in a timely manner and as quickly as possible, in short verse, so you can get what you need and get back to managing your business in this new reality.
If you have questions or want to stay up-to-date as we release information, follow me, Jenn Loges, on LinkedIn.
Need Additional Information or Assistance?