Episode 6: Shedding Light on SBA Disaster Loan Terms
Jenn Loges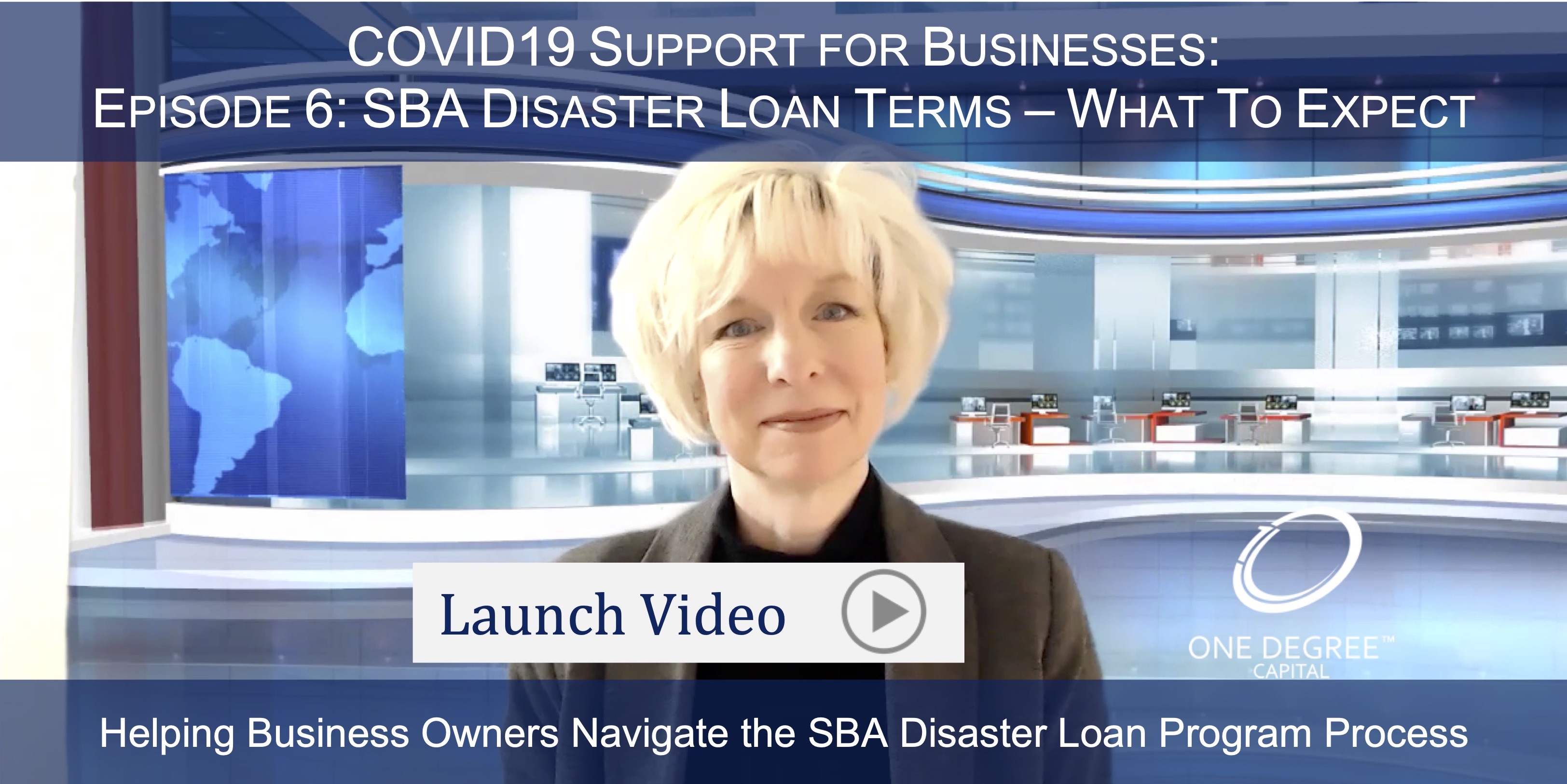 How long do you have to pay back your SBA Disaster Loan? What's the interest rate? When will your payments start? Find out what you need to know in this 7-minute video:

As we continue to monitor COVID-19 and its impact on businesses, there are a lot of questions surrounding loan terms for the SBA Disaster Loan Program. Based on recent developments, interviews with representatives from the SBA , and conversations with small business development centers, here's what we know.

SBA loans are being offered at a rate of 3.75% for up to 30 years on a case by case basis. What we're hearing now is that they will process all applications with those terms, due to the volume of loan applications they're expecting. That's the latest as of March 24 - we will time stamp these developments and continue to provide updates as we get them.

Loan payment terms are another key component. Once your loan is processed, payments will be deferred for the first year. This means if your loan closes on April 30, your first payment will not be due until one year later. However, interest will start to accrue on your closing date. Make sure you keep that in mind when calculating your payment, as it has a significant impact.

Perhaps the most critical piece—how much can you qualify for? Sources say that SBA loans can cover up to 6 months of operating expenses. These are fixed expenses like payroll, rent, and utilities. In this post, we discuss how much to consider applying for; however, you can roughly estimate your payment by taking 6 months of operating expenses at 3.75% for 30 years.


So, what now?
The SBA is recommending that you apply, even if you're not sure you'll need the loan.
SBA Regional Director, Steve Bulger, said in a recent interview that they are expecting hundreds of thousands of applications, if not more. Normally disaster is regional, when events like hurricanes, tornadoes, or fires strike. A region might have several thousand business owners, with application processing times of 2-3 weeks. In our current scenario, expand that time and multiply those impacted across the country; the processing time skyrockets. Getting your application submitted is critical just to have it in the pipeline.

Expect and plan for delays.
The application load is already straining the system. Just be aware that If you visit sba.gov/disaster to start your loan application, you will likely find yourself getting kicked out of the system, unable to upload documents, or having to log in multiple times. This is only going to get worse as the situation evolves and more people go online to apply. Again, the SBA is recommending that even if you're not sure you need the funds, get online and apply. We recommend having a contingency plan while you await processing, given the reality of the situation.


Submit a complete application.
Keep in mind that this is a government program. Government programs have paperwork. The list of supporting documentation is lengthy: your expenses, your profit and loss statements, your balance sheets, tax returns, personal financial statements, etc. Even though this is a business loan, reviewing your personal financial situation is important. It's recommended that you assemble everything before you apply, as you won't be able to finish the application without this information. Incomplete applications are only going to slow things down in an already overburdened process. Don't make the mistake of winging it, leaving things blank, and assuming your application will still go through. It won't. They will kick it back to you and you'll have to start the process over again.
One final important note: You can apply directly with the SBA at SBA.gov/disaster. You do not need to go through a bank or any intermediary to get these loans. However, we are here to help. Our company, One Degree Capital, can save you valuable filing time with our knowledge of the process, as well as quickly field questions along the way. Just let us know; we are happy to discuss how we can help.
The COVID-19 situation is evolving. As more news becomes available, we will make our knowledge available to you. I urge you to follow me on Linked In and follow this blog.



Need help now?