National Program to Connect and Educate Entrepreneurs Opens in Tysons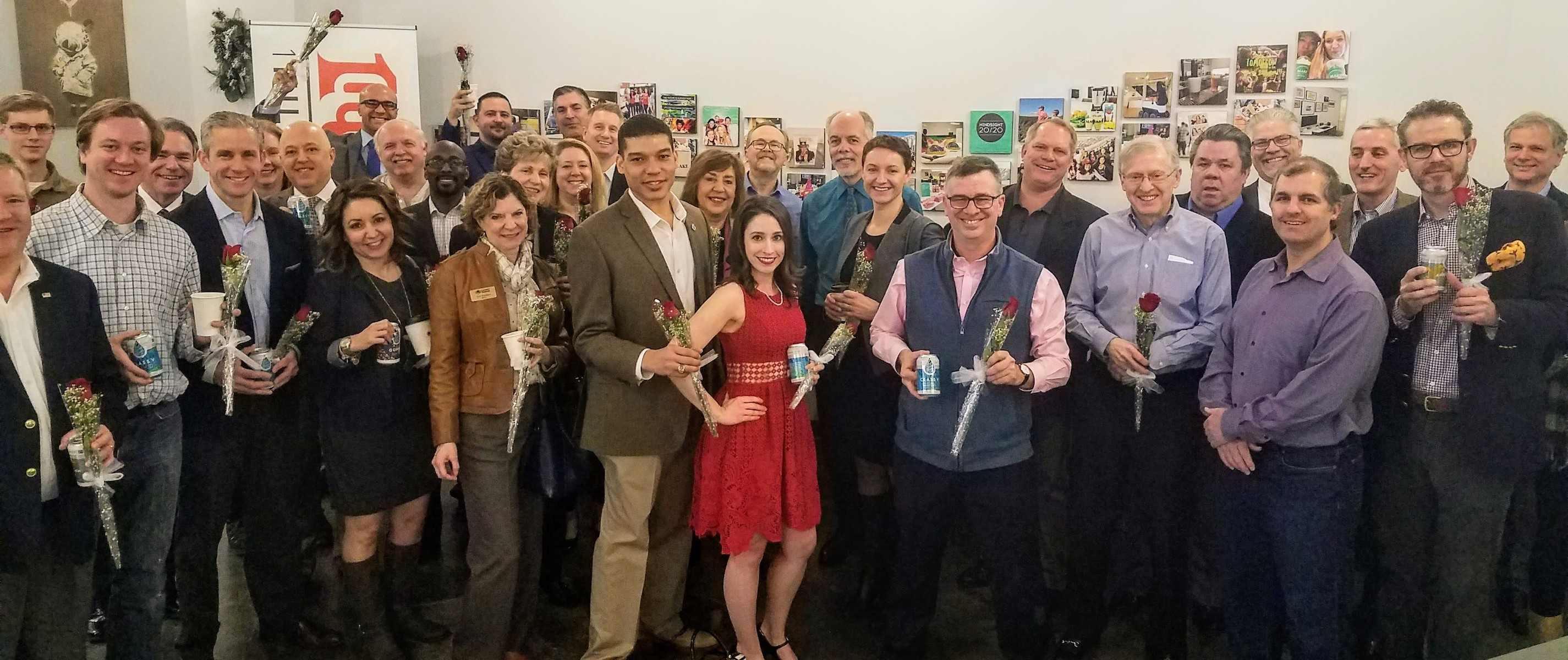 Boasting a "Love of Business Owners" 1 Million Cups Fairfax County Hosts Inaugural Meeting on Valentine's Day
FOR IMMEDIATE RELEASE
Tysons, Virginia – February 14, 2018 - Red roses, beer samples and lots of coffee were just the beginning of the treats that greeted the standing-room-only crowd of the inaugural 1 Million Cups Fairfax County entrepreneur meeting this Valentine's Day.
1 Million Cups, a national initiative founded by the Ewing Marion Kauffman Foundation, is based on the notion that entrepreneurs can support each other through business challenges by connecting, engaging and educating each other. Nationwide there are 103 weekly meetings where over 8,000 entrepreneurs have shared their stories and sought feedback from peers about their challenges. All meetings are organized by volunteers.
Eric Zarkovich of Good River Beer was the first presenter for 1 Million Cups Fairfax County. After passing around samples of his beer he focused in on his current business challenge. "Our brewery started in Denver, Colorado and is very successful there," explained Eric. "Right now we are trying to figure out how best to introduce the Northern Virginia area to our brand."
Founded by four avid outdoorsman, Good River Beer donates two percent of all sales to local river conservation efforts. Suggestions from those attending the presentation included suggestions of local radio ads and offers of introductions to local Potomac River conservation and clean-up groups as well as marinas and river-based restaurants as a means to build brand recognition.
"The offers of mutual introductions to these local river communities was exactly what I needed," explained Eric after the meeting. "The radio and TV ideas were great too, and something I would have considered out of reach were it not for the feedback from other business owners who have done it."
For 1 Million Cups Fairfax County founding organizers Rod Loges, president and CEO of One Degree Capital, and Donnell Johns, president and CEO of Avision Worldwide Consulting Firm, the first meeting was a huge success.
Having started and successfully sold two tech companies prior to founding One Degree Capital, Rod immediately saw the value the 1 Million Cups supportive model could bring to entrepreneurs.
"As entrepreneurs it can be difficult to find others who relate to our challenges," explained Rod. "Often our families and friends try to be supportive, but in the end an entrepreneur can often feel like they are on an island. The 1 Million Cups Fairfax County community support can change that."
"As a leadership and management consultant, I know first-hand the positive impact that mentors and coaches can have on a business' success story," explained Donnell. "Engaging in positive dialogue on a weekly basis like here at 1 Million Cups Fairfax County is a great way for entrepreneurs to help shape their business into what they have always dreamed it could be."
The weekly meetings are currently hosted in the co-working space of Make Offices Tysons. Meetings are public and open to all entrepreneurs and innovators in the Fairfax area. "When Rod approached us about space for their meetings we immediately saw the value to our business community," explains Rachel Breslof Forte, Community Manager of Make Offices Tysons. "Make Offices is thrilled to open up our co-working space to support our local entrepreneurs in this manner."
For more information including directions, upcoming presenters, or to apply to present, visit www.1MCFairfaxCounty.com.
---
About Kauffman Foundation
Established in 2012 by the Ewing Marion Kauffman Foundation in Kansas City, Missouri, 1 Million Cups is a national effort to connect and engage entrepreneurs in support of each other on a local level. The vision of the Kauffman Foundation is that their program will grow to the point where each week one million entrepreneurs nationally are engaging with each other over cups of coffee every Wednesday morning. To learn more about the Kauffman Foundation visit www.kauffman.org.
About One Degree Capital
A founding organizer of 1 Million Cups Fairfax group, One Degree Capital is a privately funded direct lender headquartered in Tysons, Virginia. Established in 2010, One Degree has helped over 5,000 business owners secure millions in capital through dozens of different financing vehicles including term loans, receivables financing, purchase order financing, SBA loans, real estate loans, asset based loans, lines of credit and unsecured working capital loans. For more information contact One Degree Capital at 1.703.579.6868.
Media Contact:
Jenn Mathis
1.703.579.6868
media@onedegreecapital.com

###