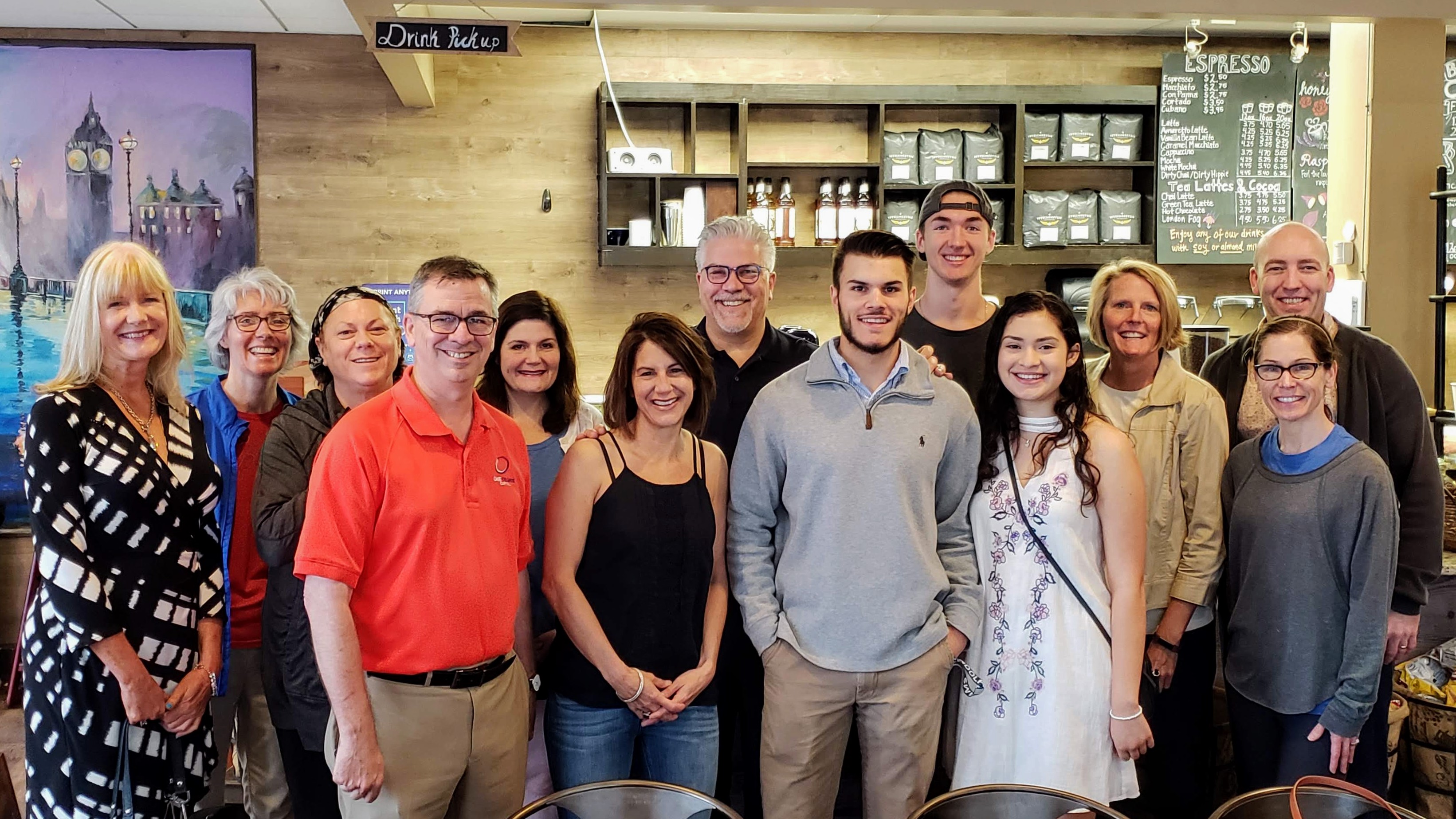 FOR IMMEDIATE RELEASE
Tysons, Virginia – June 4, 2018 – By the time Carson Morell unlocks the door to De Clieu Coffee & Sandwiches at 7am, he has already been up for hours having exercised at home before prepping the shop for morning commuters who are in desperate need of java.
This morning Carson was surprised to see several of his family and friends - over 15 of them - file in to the coffee shop and line up behind One Degree Capital founders Rod Loges and Jenn Mathis. When Rod and Jenn handed Carson a note explaining he had just won the scholarship he'd applied for earlier this year, his look of surprise transformed to exuberance.
"I was so confused - my mom, dad, aunt, and friends from school," Carson later explains. "Then when I read the note I was so excited. I can't wait to begin classes in the fall!"
"To get to briefly meet Carson's family and friends and see them celebrate his accomplishments is why I am always reminded that life is about One Degree relationships," says Rod after joining Carson's entourage for a celebratory cup of coffee.
"Carson's work ethic is evident from the moment you meet him," says Jenn. "He always has a smile for customers and works hard to remember their names and their favorite drinks. He's a great guy."
De Clieu owner Jade Lee couldn't agree more. "Carson is a fantastic kid," says Jane. "I can count on him to always be there when he says he will, and I know I can rely on him to open the shop in the morning which is a big help."
Carson will be studying finance and economics when he enters George Mason University in the fall. "I am not certain what I want to be doing as a career yet, but I enjoy numbers and look forward to learning all I can while in college," says Carson.
Until graduating over the weekend, Carson's days would start and end at De Clieu. After opening the shop he would dash off for a full day at Fairfax High School, stay after for LaCrosse practice then head to the coffee shop once again for his shift. "I loved it but I am glad to be finished with that kind of schedule for a while," Carson says with a smile. He plans to continue working at De Clieu through college.
Established in 2016, One Degree Capital's scholarship award seeks to encourage the entrepreneurial spirit of America's youth. The inaugural scholarship award went to then-high school senior Destini Sapp, owner of custom craft business, Crafted by Des. One Degree Capital plans to continue the scholarship award program.
About The John Mathis Entrepreneurial Spirit Award
Named after the father of One Degree Capital co-founder Jenn Mathis, the John Mathis Entrepreneurial Spirit Award honors high school seniors who are either employed by a small business or who own their own small business. The non-renewable $2,000 scholarship award can be applied toward tuition and fees of a postsecondary school. Applications for the 2018-19 academic year will begin November 1, 2018. For full details and to apply visit www.onedegreecapital.com/scholarship.
About One Degree Capital
Headquartered in Tysons, Virginia, One Degree Capital is a privately funded direct lender dedicated to helping business owners get the right capital at the right time for their unique business needs. Established in 2010, One Degree Capital has helped over 5,000 business owners secure millions in capital through dozens of different financing vehicles including term loans, receivables financing, purchase order financing, SBA loans, real estate loans, asset based loans, lines of credit and unsecured working capital loans. For more information contact One Degree Capital at 1.703.579.6868.
Media Contact:
Jenn Mathis
1.703.579.6868
media@onedegreecapital.com
###