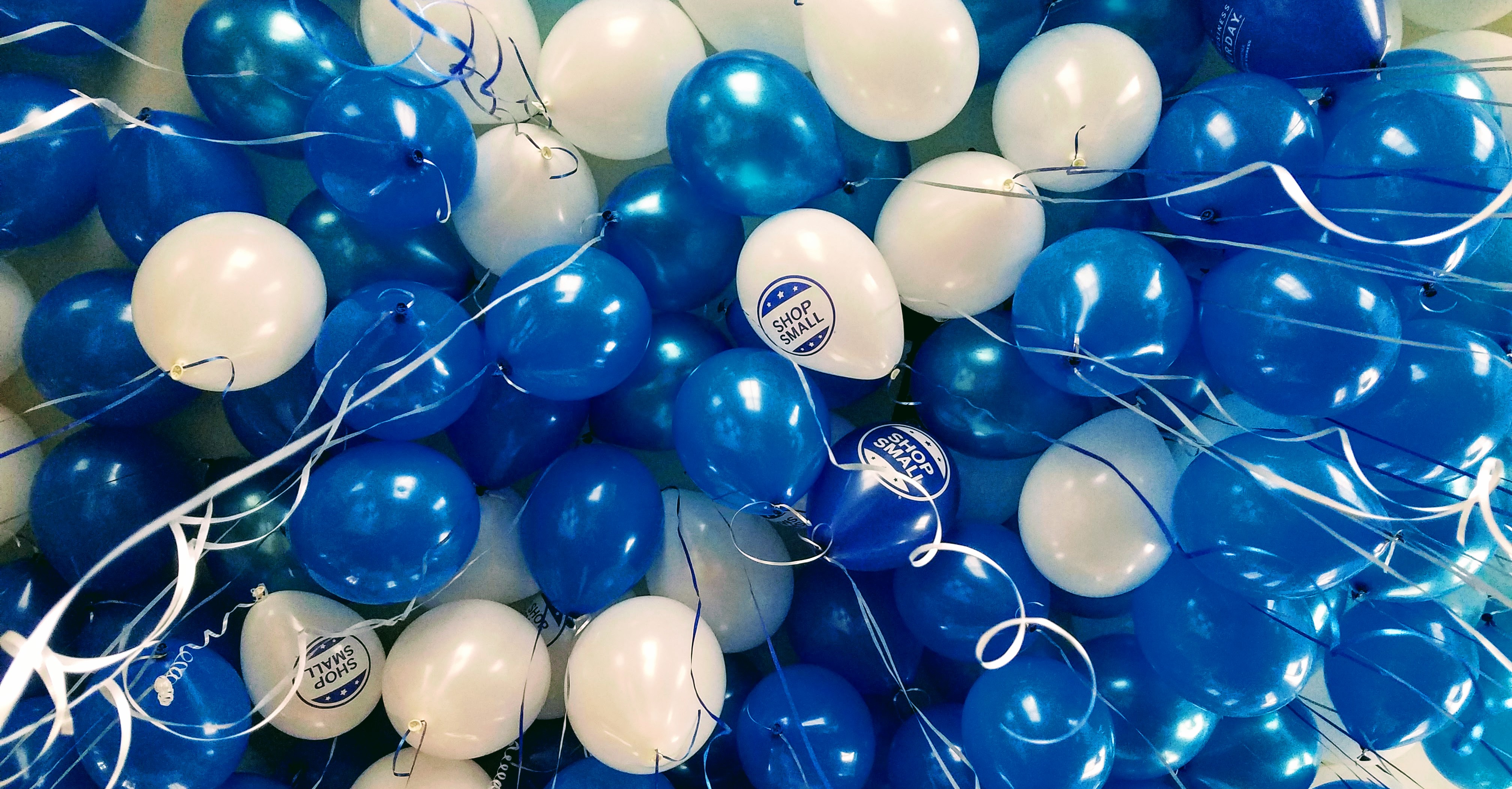 FOR IMMEDIATE RELEASE
Occoquan, Virginia - November 28, 2015 - By distributing over 200 helium balloons and 400 locally-produced donuts to the 70-plus merchants in the historic Town of Occoquan, Virginia, One Degree Capital helped local business owners prepare for "Small Business Saturday," the official un-official shopping day founded by credit card company American Express.
Jenn Mathis, Founder and Vice President of One Degree Capital, explained, "We felt that local merchants in Occoquan deserved a special treat for having the tenacity, strength and dedication it takes to run a business. Why not make their day a little sweeter and their shops more visible to customers? Balloons and locally made donuts were the only solution to support them on this special day."
"This year was the best Small Business Saturday to date," said Julie, owner of Polka Dot Divas, a women's boutique located in downtown Occoquan. She continued, "We were so thankful for the delicious donuts and helium balloons that One Degree Capital supplied. What we loved most was that we didn't have to stop and take away from time with customers to inflate balloons or get breakfast; we could give customers our undivided attention."
The merchants, caught by surprise as their stores opened on the morning after Black Friday, reacted with joy, thanking the team in -person and through social media.
"THANK YOU THANK YOU THANK YOU! We love the balloons - where did you get those delicious donuts?" Carrie Manderfield, owner of Touch of Gold a local jewelry shop, posted in Occoquan Facebook Group, "We Love Occoquan, VA."
Carrie and Touch of Gold store manager, Shirley, also stated, "One Degree Capital made Small Business Saturday fabulous, let us tell you! The balloons drew attention to all of the small businesses in Occoquan and their kind gesture was a little something extra which we thought was very very nice of them. It was a wonderful day."
"We are already preparing for next year," Jenn stated, "We loved the outcome this year and know that upcoming years will be even bigger and better. Our team will continue to support the neighboring merchants on this exciting local business holiday!"
About Small Business Saturday
Created in 2010 and officiated in 2011 by the U.S. Senate, Small Business Saturday is an American Express coined movement encouraging people to shop at small local businesses. Millions of individuals, businesses, and communities have embraced it nationwide spending over $14 billion at small independent businesses on Small Business Saturday in past years.
About One Degree Capital
One Degree Capital, a privately funded lender, helps business owners navigate the "Capital Desert" that exists for nano and micro businesses needing capital to grow their business. One Degree Capital specializes in providing business loans to Significant Business Owners™ nationwide, believing there is nothing "small" about any sized business. Established in 2010, One Degree Capital has provided over $20 million to Significant Business Owners™ utilizing funds from private investors rather than banks. Many of One Degree Capital investors are themselves business owners and entrepreneurs. Learn more at www.OneDegreeCapital.com.
Media Contact:
Jenn Mathis
1.703.579.6868
media@onedegreecapital.com
###