A Corporate Promotion or Beer? Growling Bear Chose Beer
Rod Loges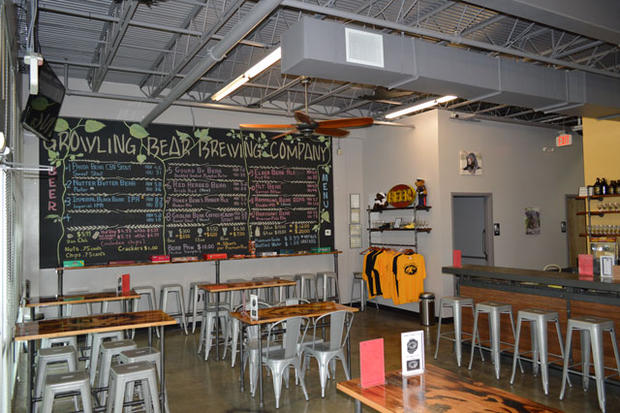 This post is part of a series, "Rod's Rambles," where Rod travels the world interviewing small business owners to listen and learn how they turned their passion into profits when starting their own businesses.
Ask anyone who works with me on a regular basis and they'll be the first to tell you – I'm not a detail guy.
One of the most valuable lessons I learned from my first college business was that details matter (a painful lesson).
This was probably why, as I grew out of my first keg delivery business and looked for the next business opportunity, opening my own craft brewery never made my list. Ingredients, mixtures, exacting recipes… I'll leave that to the experts.
With over 100 breweries and growing, the craft beer industry is alive and well in Virginia. One of the newest breweries is right here in our Potomac Local region: Growling Bear Brewery.
Growling Bear Brewery is a veteran and woman owned microbrewery owned by Mike and Corinne Bliven. Their 2BBL German Brewhouse helps them serve up 10-12 beers on tap year round.
Their beers is made from whole grains with an emphasis on organic all-natural ingredients sourced from the part of the world where the beer is native whenever possible.
As a former Air Force NCO, Mike knows a thing or two about the importance of details, and he has the skills to match. Mike hand-made a lot of the furniture and even the bar itself. Quite impressive stuff!
Even the serving tray for the tasters is in the shape of a bear claw cut from steel and made to exacting standards (just don't drop it on your foot).
I sat down with Mike and asked him about his experience starting his craft brewery:
Rod: Why did you start your business?
Mike: Our love for craft beer started in 1997 when we were first introduced to a splendid Irish Red Ale brewed at the Original Saratoga Brewpub in Saratoga Springs, N.Y.
We had such a great experience there that I began reading and inquiring about home brewing in my spare time. For Christmas that year, I got my first home brew kit. Then we started planning vacations around breweries: Boston to tour Sam Adams Brewery, even Belgium to venture into the farm ales and wits. Our taste kept evolving as more options became available and our passion for beers deepened.
In December of 2013 my corporate career came to a crossroads forcing me to make a choice: take a promotion with more responsibility or go make beer. By then my abilities, knowledge and skills in brewing were well rounded, so we decided to take a chance and start the planning phase of Growling Bear Brewery.
Rod: Why did you name it Growling Bear Brewery?
Mike: Growling Bear is the nickname some people use for me.
Rod: What do you love most about your business?
Mike: Meeting all kinds of people, young and old, and providing them with a great beer in a great atmosphere. I love building that sense of community that makes craft breweries so unique.
Rod: What is key to your success?
Mike: We never cut corners. Every step is important. And we use ingredients that are native to each type of beer.
Rod: What's a challenge you've had to overcome?
Mike: Working to get all the right permits was a bit of a challenge.
Fortunately, we have a great landlord who was very supportive and understanding during the process.
Rod: What advice would you share with other potential business owners?
Mike: Start a business that you are passionate about and stay true to yourself and your art!
Growling Bear Brewery is located at 14051 Crown Court in Woodbridge.