Pies and Wine So Good, Mom's Has a Great Business Plan
Rod Loges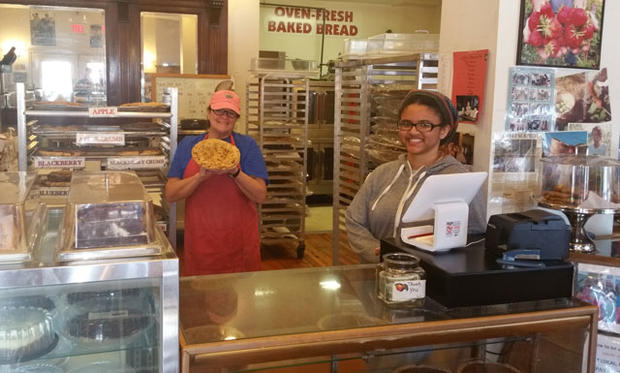 There is a perfectly logical reason for the location of Mom's Apple Pie Bakery and Wine Shop in Occoquan: It is the first place you will want to visit when you pull into town, and also before heading back out of town.
Yep, Mom's is that good.
Of course, Mom's bakes some fantastic pies (second only to my own mom, of course… hi, Mom!) Strawberry, Pumpkin, Rhubarb, Apple and many other flavors are made to very exacting high quality standards under the supervision of store employees like Sharon Cardinale, who has been at Mom's for over 11 years.
Not to be outdone, Mom's also has a top-notch Wine Shop staffed by Certified Sommelier, Keith Bevins. It turns out Keith loves craft beer almost as much as he loves wine, which makes for a pretty darn good selection that's sure to please everyone.
And if that weren't enough, Mom's also serves as a general store of sorts for the town of Occoquan, where residents can find everything from milk and butter to household cleaners and even bait and lures.
That's a lot going on inside one 1950's-looking bakery building. Yet the team at Mom's doesn't just do all this merely pretty well, they are FANTASTIC at all of it.
In 2015, Mom's was selected by Yahoo Travel for the best pie in Virginia. Even Mrs. Obama has popped in to shop.
So what's their secret? I'd say one of their biggest attributes is Consistency. Customers know what to expect on each visit – from the reliable store hours (open 7 days a week, only closing on Thanksgiving and Christmas and the occasional blizzard) to the well-stocked selections in the bakery, store and wine shop. The team at Mom's works very hard to ensure customers have a consistently great experience each and every time they visit.
I recently had a chance to sit down with Avis Renshaw, owner of Mom's Apple Pie Bakery and Wine Shop, to learn more about the secret ingredients to her business' success:
Rod: Why did you start Mom's Apple Pie Bakery?
Avis: We wanted to start a business, and we were good at making pies, so we just started making fresh pies using locally grown ingredients. Soon enough word got out about our great pies, and we grew from there. We knew that we were on to the right thing for our family and customers and it's been great to keep it going.
Rod: What do you love most about your business?
Avis: We love being a good neighbor and providing great pies and baked goods for our neighbors to share with their loved ones. I love that we grow some of the fruits for the pies and vegetables for the quiches.
We recently started providing Mom's customers our farm fresh vegetables through our CSA (Community Sourced Agriculture) program. It is wonderful to know that we are able to provide local, nutritious, healthy foods to our neighbors.
Rod: What's a major challenge you have had to overcome?
Avis: Capital for growing our business is always a concern for small business owners. Another challenge we are working on now is how to better engage our customers via social media.
Rod: What are some of your keys to success?
Avis: Our whole team is focused on providing a great product each and every time we serve a customer. We are constantly testing ways we can improve our pies.
We even adjust how long we mix the ingredients based on the time of year and humidity to be sure we are providing a consistent taste for all our pies!
Rod: What advice you would share with someone thinking about starting a business?
Avis: Perseverance is one of the keys to being successful in business. A business owner has to be committed to hanging in the game even after taking a couple hits. And be consistent with whatever you do – customers want to know what to expect each and every time.
I'd like to say thank you to Avis and her family for being what I call a Significant Business Owner (because there is nothing small about owning your own business). It takes significant time, energy, and commitment from everyone involved to build a strong business like Mom's Apple Pie.
Do you have a great store like Mom's in your neighborhood? Please email me and we can highlight them in future articles.
In the neighborhood? The first 21 people to mention "One Degree Capital" at Mom's Apple Pie will receive a free Buckeye.