2016 Mid-Year Economic Report Released
The National Small Business Association released its Mid-Year Economic Report earlier this week. Highlighting survey results from polling small business owners across the country, the report provides a glimpse of the current economic conditions of America's small businesses.
According to the NSBA, small businesses comprise 99.7 percent of all employer firms nationwide. Because of this, the economic condition of small businesses is thought to have a direct correlation on our country's economy as a whole.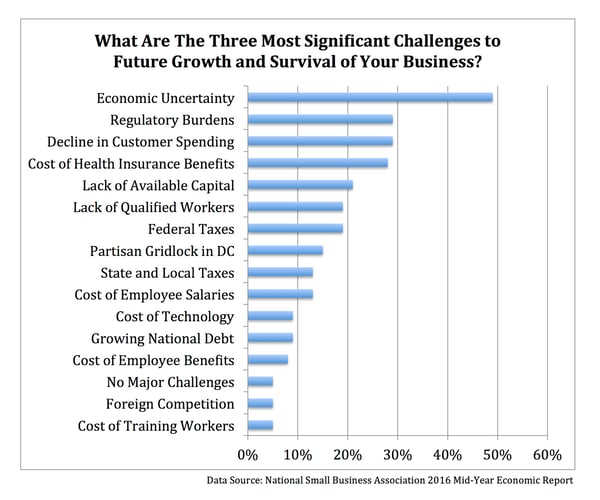 A Few of the Report Highlights:
DROP IN BUSINESSES REPORTING INCREASED REVENUE
The report showed a 13% drop in businesses reporting revenue increases (only 37% reported increased revenue versus 45% reporting over the same period last year).
GROWTH ANTICIPATED
54% of respondents expect their businesses to grow over the next year.
LACK OF CAPITAL IMPACTING GROWTH
41% of respondents said lack of capital hindered their ability to grow or expand their business this past year and 20% reported the need to reduce their employee head count in response to tightening credit conditions.
STRICTER CREDIT CARD TERMS
28% of business owners reported their business credit card terms have worsened and nearly one-third reported using credit cards to finance some part of their business over the past year.