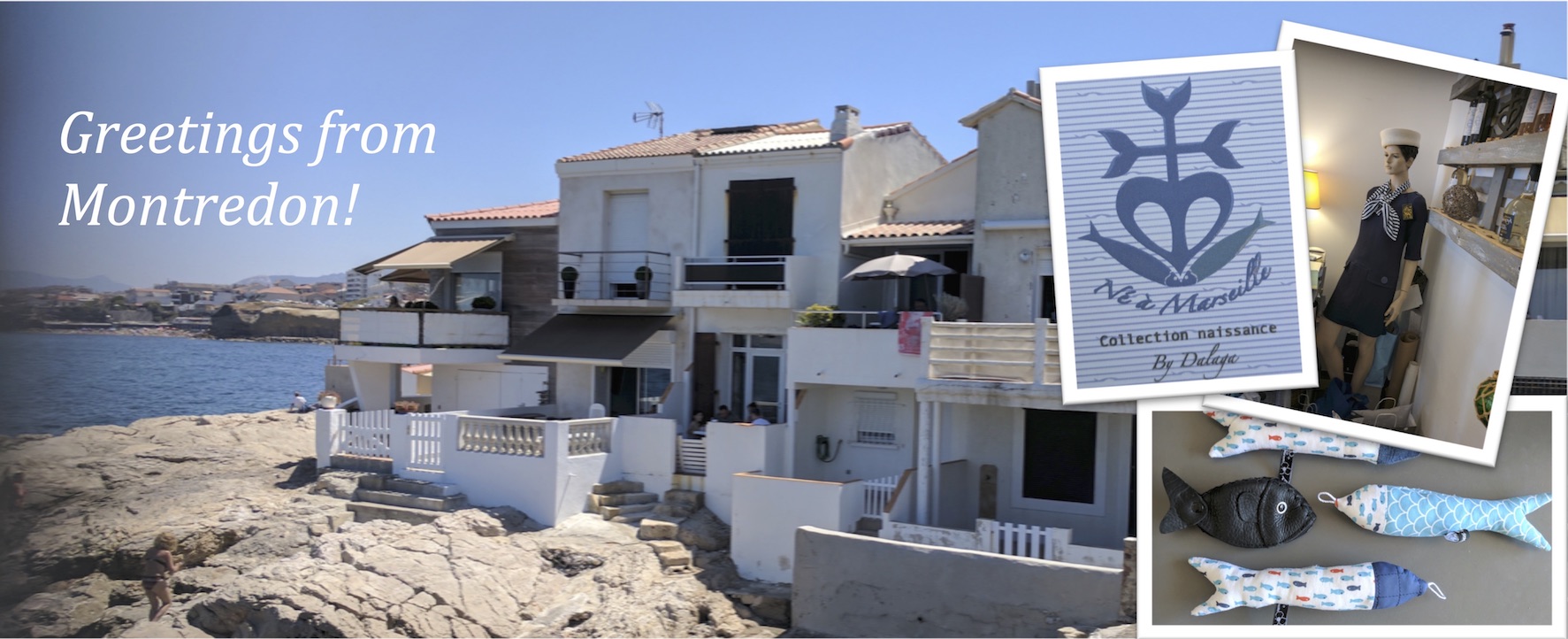 This post is part of a series, "Rod's Rambles," where Rod travels the world interviewing small business owners to listen and learn how they turned their passion into profits when starting their own businesses.
WALKING ON THE SMALLEST RUES ("streets" in French) alongside the Mediterranean Sea in southern France, I happened upon this little boutique in the heart of Montredon, a small fishing village on the outskirts of Marseilles. It's a place where I would buy a home if I ever moved to Marseilles - everything here reminds me of the little town of Occoquan, Virginia, where I live.
As I stood outside of Boutique Atelier I chuckled a bit at these cute little "home decor" fish displayed in the window. Lynn Dalaga, the shop owner, and her mentor overheard my laugh and reeled me into this wonderful boutique.
Even my limited artistic eye could see Lynn was an incredibly talented artist and fashion designer. She hand-made everything in the boutique herself: dresses, children's clothing, wallets and home furnishings. It was all very beautiful. Of course an added bonus for me was that much of what she created was inspired by the sea. I noticed that even her boutique's logo was an adaptation of the French Mariner's Cross.
As we began talking, Lynn's mentor asked me if I'd like an espresso or fresh fruit juice. After initially declining his offer, I said "OK" and was so glad I did! Like everything in the boutique even the drinks were special. They took me into a small cafe area at the back and Lynn made me a "veggie juice" of oranges and carrots (veggies? Hey I've heard of these things before!) It was really quite tasty.
Me being me, I started asking questions about Lynn's business and soon she agreed to be interviewed on video. One of the first questions I asked was "What do you love most about your business?" Her answer was simple: "To create!" After the video interview ended, Lynn's mentor said to me, "Rod, when you write your book about business owners, I want a copy!"
Over the next hour we talked about many things. Lynn pointed out the unique homes nearby in Montredon where the front doors open right to the sea; you actually have to walk across rocks to get to the front door! Lynn's mentor shared with me that these homes are for "navigators of the sea and life." He explained that one of these "sea homes" was owned by Florence Arthaud, a world renowned sailor who passed away recently in a tragic helicopter accident.
If you should ever find yourself in Montredon, stop by Lynn's lovely boutique to admire her art and enjoy her hospitality.
If you go, send me a photo of yourself and your purchase with Lynn, we will donate $50 to Florence Arthaud's non-profit which helps people with disabilities learn to sail and enjoy the sea. Limited to the first 10 participants (hey, we are just a small business too!)
Remember, as you travel the world over, be a story seeker. When you have the opportunity to meet an independent business owner, ask these courageous (and often a bit crazy like me!) characters to tell you their story. You never know where it might take you!

PS.- yes, I bought a few of the "fish" to bring back to Occoquan.