Does Your Business Have The Right Banking Relationship? Here's How To Tell
No quod sanctus instructior ius, et intellegam interesset duo. Vix cu nibh gubergren dissentias. His velit veniam habemus ne. No doctus neglegentur vituperatoribus est, qui ad ipsum oratio. Ei duo dicant facilisi, qui at harum democritum consetetur.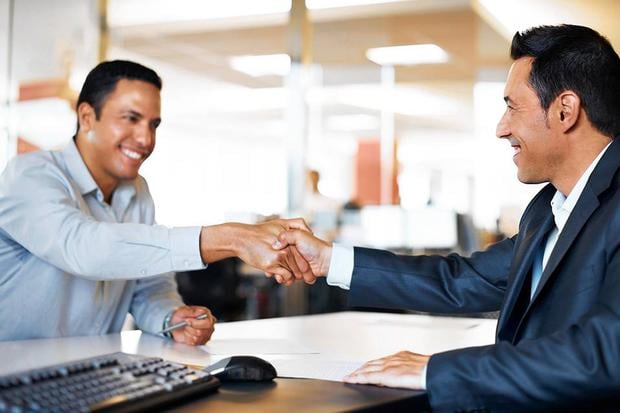 What made you choose your current business bank? Has your business changed since you opened your account? If you had to look for a new banking relationship, where would you start?
We all wish we had George Bailey from It's a Wonderful Life as our personal banker. The president of his small town's bank, George knew his clients by name and often knew their whole families, too. At one point George sacrificed everything - including his honeymoon budget - to help out his community during a time of crisis.
While George Bailey was pure fiction, it is true that the banking industry used to be much different than what we have today. In the early 1930s there were roughly 14,000 banks in the country. All banking functions typically happened at the same place where you walked in to make your deposits. If you wanted to speak with the bank's president in person you often needed only to ask.
Today there are fewer than 5,000 banks with nearly 80,000 branches. Decisions are centralized, meaning when you walk into your "neighborhood" bank they will happily take your deposits but in general all decisioning is made at some other location - often in an entirely different state.
Why does this matter? For personal banking, it probably doesn't. Most personal banking needs are fairly simple - a few deposits, pay some bills, keep a savings account. Personal banking needs are largely automated so much that most banks don't even charge fees for personal accounts.
Business banking needs are more complex with a greater number of deposits and withdrawals, electronic transactions that need to be monitored, multiple users and multiple bank accounts. As a business grows the complexity increases.
Is your current bank still a good match for your business? Here are a few questions to ask yourself:
Does my bank specialize in business clients?
Not all banks provide banking in the same way. Banks who focus on consumers will focus their resources on providing things consumers need - namely free and easy checking and the occasional home mortgage. Banks with a higher percentage of business banking clients will have services tailored specifically to address the complex needs of today's businesses.
What banking services does my business utilize the most?
Not all businesses bank the same. Government contractors have large sums of money being wired in and out of their accounts. Retailers have large credit card processing needs. Restaurants often have lots of cash to deposit daily. It's important to understand how you bank before you can evaluate where you bank.
What fees am I paying for these services?
When evaluating fees it is important to look at the total banking picture across your entire bank relationship. While your business line of credit may have a very low rate, the deposit accounts they require you to have may have larger-than-normal fees to compensate. Some accounts have no monthly fee but will charge high amounts for services like wire transfers. Be sure to evaluate all the fees as they relate to how you bank.
What will my banking needs be in the near future?
If in the near future your bank will need additional services - like a business line of credit or a commercial mortgage - establishing a good banking relationship beforehand with the right bank will make the application process much more simplified as the bank will already have most of the underwriting materials they would need.
Where are banking decisions made?
George Bailey may be fictional but the idea of knowing the key personnel at your bank is a good one. Local banks - especially ones that cater to local businesses - will base their banking decisions (like line of credit limits) on real local knowledge rather than an algorithm in a spreadsheet four states away.
Time to move on?
If the answers to the questions above have made you realize that your current bank may not be meeting your needs, how do you go about evaluating options (and, more importantly, where do you find the time)? One Degree can help. Our financial solutions experts will work with you to evaluate your banking needs and, if you need to make a change, we will help you find the right bank for your unique business needs.
Need Help Evaluating Your Business Banking Needs?